The Foundem Difference
Foundem is the world's most advanced vertical search engine. Our aim is to significantly improve the way people search the Web for information, products, and services, by providing a one-stop, multi-domain parametric search and price comparison service that goes far beyond the keyword-centric restrictions of conventional search engines. Whether users are looking for flights, a job, a television, sunglasses, or even a new house, Foundem's revolutionary vertical search technology allows them to search and compare the market in seconds, saving time, effort, and money.
Vertical search engines like Foundem are becoming increasingly important because their detailed understanding of a vertical (or search category) allows them to delve much deeper than a conventional search engine. A conventional search engine, for example, allows a search for flight-related websites, whereas the right vertical search engine allows a search for the actual flights. The same is true for jobs, consumer goods, real estate, hotels - indeed, for anything where users cannot adequately express what they are looking for with keywords alone.
Providing vertical search, even for just one vertical, is notoriously difficult. Until now, there was no general-purpose technical solution for parametric, vertical search. Each vertical-search service has had to develop its own ad hoc, domain-specific, solution. This is why vertical search engines have traditionally been restricted to just one or a small handful of domains.
Traditional search engines are therefore broad but superficial (shallow), while vertical search engines tend to be deep but narrow (highly specialised). There was, in effect, an insurmountable technology barrier preventing traditional search engines from going deeper and vertical search engines from going broader.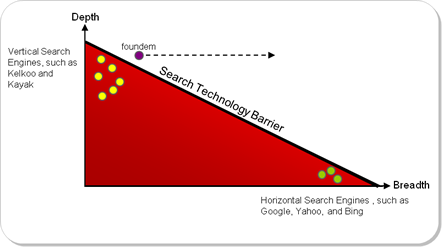 Foundem's patented WebSentient™ technology provides the World's first and only general-purpose vertical search platform. Our revolutionary WebSentient technology can provide accurate, timely, and highly-detailed parametric search within any domain.
Who We Are
Foundem is first and foremost a technology company. We are dedicated to developing market-leading vertical-search services that provide significant benefits to our users. We currently provide best-of-breed vertical search in the travel, jobs, real-estate, and shopper comparison domains. No other vertical-search service in the world can match Foundem's breadth.
Who We Aren't
We are not a retailer. We don't actually sell anything. Instead, we present you with details and the best (and worst!) prices from hundreds of different sources, all in one place.
Consumer Benefits
Foundem's users can:
Save time, effort and money by searching dozens or even hundreds of sites at once.
Compare prices and other important features from numerous sites from one simple, but descriptive, search form.
Discover deals from providers that other sites miss, such as EasyJet and JetBlue. We feature bargains from providers you won't find via the online travel agencies and other shopper comparison sites. The small and independent suppliers often offer substantial savings over larger suppliers.
Purchase directly from the brands that they trust. Foundem takes you directly to the supplier's website, often to within just a click or two from purchase.
Accurate and Independent
Although comparison shopping isn't only about comparing prices, we understand that price is often a critical part of any buying decision. Rest assured that, wherever possible, we try to ensure that the price you see is the price you pay.
It is important to us that our search results are as comprehensive and objective as possible, so we never artificially give preferential placement to one of our suppliers over another. We even search commission-free suppliers where we believe that they have something truly unique to offer.
Explore and Refine
As anyone who has searched the Web will know, the search itself is just the beginning. Wading through thousands of results without a meaningful way of prioritising and exploring them can be frustrating and time-consuming.
Our industry-leading result filters allow you to refine your search criteria instantaneously, making it easy for you to precisely hone in on exactly what you're looking for.
WebSentient™ Vertical Search Technology
We want the Web to fulfil its full promise as a global marketplace. WebSentient technology is therefore available to others under license (if you are interested in licensing our technology, you can email us at enquiries@foundem.com).
Partners
Foundem are proud to provide state-of-the-art vertical-search and price comparison services to our partners